Project Roller
Blogs, news and views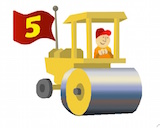 Blog Better! Roller is the open source Java blog server that drives Apache Software Foundation blogs and others. Read more on the about page.
Site hosted by

Quick Links
Navigation
« Ganesh Mathrubootham... | Main | Apache Roller 4.0... »
09.14.2009 by Dave Johnson | 0 Comments
Want to learn about the new features coming in Roller 5.0? Come to ApacheCon US 2009

in Oakland, California this November and find out.
If you've been to an ApacheCon, then you know what a great experience the conference can be. If not, well then this is the perfect opportunity to join that experience. To celebrate the 10th anniversary of the ASF, we're planning a conference like no other. FREE events include a 2-day BarCamp and Hackathon, and evening MeetUps.
Dave Johnson will be attending the conference and giving a talk on on Roller 5.0. Here are the details:
Abstract: We'll cover the features of Apache Roller 5.0 (to be released Summer 2009 Fall 2009) and how it compares to other blog server options, typical deployment architectures and examples of Roller sites in production today. Ongoing student-driven work on OpenID and better Media Blogging support will be disucssed in detail. And, you'll learn how blog software is changing and adapting to incorporate Social Networking features such as profiles, friend relationships and social gadgets and how you can use Apache Shindig and Project SocialSite to add these features to Roller.
You can register for ApacheCon US 2009 via the link below.
Register for ApacheCon US 2009

« Ganesh Mathrubootham... | Main | Apache Roller 4.0... »