Project Roller
Blogs, news and views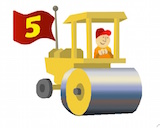 Blog Better! Roller is the open source Java blog server that drives Apache Software Foundation blogs and others. Read more on the about page.
Site hosted by

Quick Links
Navigation
« Welcome Matt Schmidt | Main | Roller 2.1 is availa... »
01.05.2006 by Dave Johnson | 0 Comments
Roller 2.0.1 is a patched version of Roller 2.0 that fixes some problems that PostgreSQL database users were experiencing. If you are upgrading a PostgreSQL based Roller 1.X system to Roller 2.0, then this is the build for you. Otherwise, you can ignore Roller 2.0.1.
Get it in our Java.Net project's Roller 2.0.1 download folder

UPDATE: A small problem was found in the database upgrade scripts and the Roller 2.0.1 download has been refreshed with a fix for the problem.
« Welcome Matt Schmidt | Main | Roller 2.1 is availa... »