Project Roller
Blogs, news and views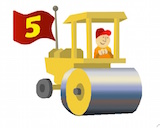 Blog Better! Roller is the open source Java blog server that drives Apache Software Foundation blogs and others. Read more on the about page.
Site hosted by

Quick Links
Navigation
« Roller 1.0: ready to... | Main | Roller 1.1 released »
02.08.2005 by Dave Johnson | 0 Comments
Roller 1.0.1 is a bug fix release that also adds support for Google's new rel="nofollow" flag. You can get the release

on Roller's Java.Net download space. You can read the change list

on Roller's JIRA issue tracking system. And, you can find install instructions and instructions for upgrading your existing Roller 1.0 install to 1.0.1 on the Roller wiki. Happy rolling!
« Roller 1.0: ready to... | Main | Roller 1.1 released »