Project Roller
Blogs, news and views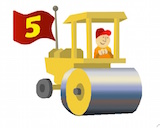 Blog Better! Roller is the open source Java blog server that drives Apache Software Foundation blogs and others. Read more on the about page.
Site hosted by

Quick Links
Navigation
« Roller 1.0 Release... | Main | Roller 1.0.1 is... »
01.17.2005 by Dave Johnson | 0 Comments
Roller 1.0 is the first major release of Roller since Roller 0.9.8 was released in September of 2003. See What's new with Roller 1.0 for a summary of the many changes, improvements, and bug fixes made since the last release.
Roller 1.0 has gone through a lot of testing and debugging. The Roller 1.0 release process began when Roller 0.9.9 was deployed at JRoller.com

in May of 2004 and ended with the deployment of Roller 1.0RC1, 1.0RC2, and 1.0-Final at blogs.sun.com

in December of the same year. Now it's your turn to try Roller 1.0. Download it, install it, and let us know how it works for you. Here are the links you need to get started:
Thanks to the many folks that helped to make Roller 1.0 possible:
Anil Gangolli (committer)
Dave Johnson (committer)
Henri Yandell (committer)
Jaap Van Der Molen (committer, retired)
Lance Lavandowska (committer)
Matt Raible (committer)
Min Idzelis (committer, retired)
Rick Ross, Matt Schmidt of Javalobby
Will Snow, John Hoffman, and Klarrissa Marenicth of Sun
And a cast of thousands of JRoller.com, blogs.sun.com, and Roller bloggers everywhere
« Roller 1.0 Release... | Main | Roller 1.0.1 is... »