Project Roller
Blogs, news and views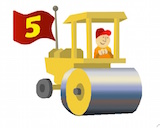 Blog Better! Roller is the open source Java blog server that drives Apache Software Foundation blogs and others. Read more on the about page.
Site hosted by

Quick Links
Navigation
« Roller 1.0.1 is... | Main | Roller 1.1.1 bug fix... »
04.20.2005 by Dave Johnson | 0 Comments
Roller 1.1 has been released. The release features Podcasting support

, bug fixes, and some minor improvements. You can find the files in Roller's Java.Net download space

or via the links below:
Once you've downloaded Roller refer to the docs to install and use Roller:
Run into problems during installation? Subscribe to the Roller user mailing-list

or stop by the #roller chat room on freenode.net

.
« Roller 1.0.1 is... | Main | Roller 1.1.1 bug fix... »