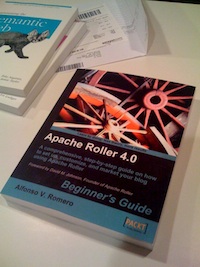 I blogged about Alfonso Romero's Apache Roller 4.0 Beginner's Guide book before. It's a great resource for folks who want to get the most out of their Apache Roller-based blogs, and not just beginners. As you can see in the photo on the right, I've got my copy. You can get yours directly from Pakt publishing:
Buy a copy of Beginner's Guide to Apache Roller 4.0
To publicize the book, Pakt publishing has been publishing some useful excerpts and even a complete sample chapter online. Here's summary of the excerpts so far:
If you've been following Roller development you know that Roller 5.0 is on the way. Most of the changes in Roller 5.0 are "under the hood" so 5.0 won't make Alfonso's book obsolete. Except for a couple of pages in Chapter 5 "Spicing Up Your Blog" that need updated screenshots, I believe everything in the book applies to Roller 5.0 as well.