Mac-based weblog editor MarsEdit v3.0 has just been released by Red Sweater Software.
Because MarsEdit v3.0 supports the Atom Publishing Protocol (APP), it works with Apache Roller 5.0RC1's new and improved AtomPub support right out of the box. I'm writing this post in MarsEdit right now and publishing to Roller 5 via APP.
MarsEdit includes a rich text editor and supports image upload via drag-and-drop into the editor. You can edit a draft post locally or use Send to Blog to send the draft to the server for further editing before publish. You can specify multiple tags for your post and MarsEdit will send them to Roller as tags.
Generally, I prefer to edit my HTML by hand but for somebody who wants simplicity and a familiar Mac interface, MarsEdit v3.0 looks like a great choice. And the HTML it generates doesn't look too bad.
Here's a screenshot that shows what MarsEdit looks like when editing a post: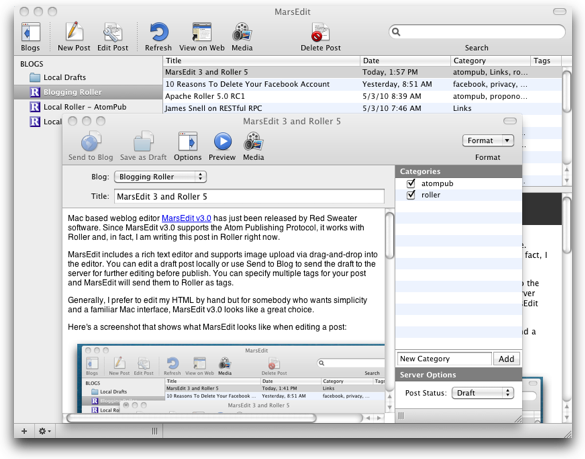 Here are the settings I'm using (URLs changed to protect the innocent).
MarsEdit is $39.95 and there's a 30-day free and fully-function trial version available too.