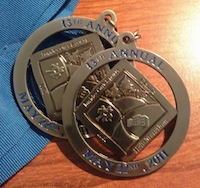 I'll be resuming my Web Integration Patterns blog series this week, now that I have some "free" time again. It's been a busy Spring at work and at home, especially during April and May. My early mornings, evenings and weekends were consumed by half-marathon training, (and the Apache Roller 5.0 release, more about that later).
As for the half-marathon, it went very well. I really enjoyed training and running with my oldest son. The race was today and we're both pretty happy with our results, which you can see below.

13th Annual Inside-Out Sports Classic - Half-Marathon

Place Bib  Name                    S Ag City             St Chiptim Guntime Pace  
===== ==== ======================= = == ================ == ======= ======= ===== 
  247  308 ALEX JOHNSON            M 14 RALEIGH          NC 1:59:10 1:59:18  9:06
  154  309 DAVE JOHNSON            M 47 RALEIGH          NC 1:50:34 1:50:43  8:27 

The race course is wonderful and runs through Umstead park on the small-grain gravel bridle trails there. Here's the route map I made on dailymile.com (check out the Elevation Profile, it's a hilly one).