The next releases that I'd like to announce are the Blogapps 2.1 Examples and the Blogapps 2.1 Server.
If you'd like to learn more about the Blogapps examples and server then read The Blogapps Project article at Java.net. Here's a quick summary:
The Blogapps project hosts a collection of useful RSS and Atom utilities and examples from RSS and Atom In Action by Dave Johnson. They're designed to be useful even if you haven't read the book and they're available under the Apache License 2.0 so you can use the code in your applications and you can modify and redistribute them as you wish.
What's changed since 2.0? The examples have been updated to include the latest version of ROME Propono, which means that most of them now support the final Atom protcol spec. The server has been updated to include Roller 4.0 RC5, which also includes Atom protocol support and JSPWiki 2.4. And of course, various bugs have been fixed. Here are the release files, installation instructions and release notes.
This blog entry was posted via Atom protocol and the MatisseBlogger blog-client, which you can see in the screen-shot below (which was also posted via Atom.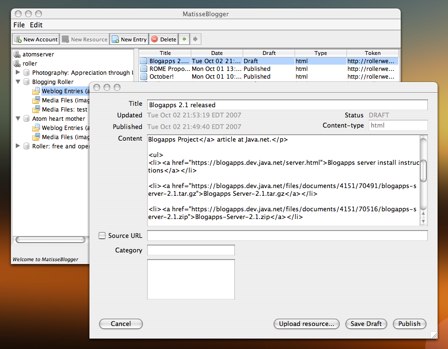 What's next? Not sure at this point, but I will do another Blogapps release once ROME 1.0 is released.