ApacheCon is coming up fast. I just faxed in my speaker's agreement and I'm starting to update my talk to cover the latest changes in the upcoming Apache Roller 4.0 and 4.1 releases.
I've been four times now and ApacheCon is always a great conference. It's small and cozy enough, but almost all of the Apache projects are represented. So it's easy to find the experts, make new friends and get all of your questions answered. The session line-up looks great this year; here are ones that caught my eye:
Want to go? There's still time to shave a couple of hundred dollars off the conference fees by registering early. Early bird pricing has been extended to Sept. 22, 2007.
And the Weston looks like a pretty nice place for a conference: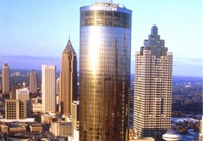 ApacheCon US 2007
|
Register here
November 12-16, 2007
Westin Peachtree Plaza
Atlanta, Georgia