Project Roller
Blogs, news and views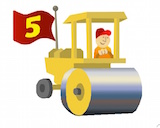 Blog Better! Roller is the open source Java blog server that drives blogs.oracle.com, the Apache Software Foundation blogs and many others. Read more on the about page.
Site hosted by

Quick Links
Navigation
« Roller needs YOU! | Main | Apache Roller 5.0... »
05.23.2011 by Dave Johnson | 0 Comments
Here's some happy news. A new committer has joined the Roller project. Shelan Perera has been helping out on the mailing lists, submitting fixes and recently won a Google Summer of Code (GSOC) project to add mobile blogging features to Roller. He was nominated for committership and voted in on May 5, 2011.
Shelan's GSOC project is to add mobile theming capabilities to Roller. You can find the Mobile Theming for Roller proposal on the GSOC website. Shelan is seeking feedback on requirements and design for the project, and keeping the community in the loop by running a blog to journal his progress: Apache Roller Mobile Platform.
Welcome Shelan!
« Roller needs YOU! | Main | Apache Roller 5.0... »