Project Roller
Blogs, news and views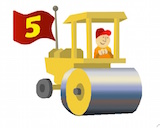 Blog Better! Roller is the open source Java blog server that drives Apache Software Foundation blogs and others. Read more on the about page.
Site hosted by

Quick Links
Navigation
« Roller 1.1.1 bug fix... | Main | Roller 1.1.2 availab... »
05.27.2005 by Dave Johnson | 0 Comments
Sun's
Allen Gilliland

has joined the Roller team, one of six
committters
who have rights to commit changes to Roller's source code repository. Allen started working on Roller a couple of months ago and has already developed a complete new metadata driven
configuration system
for Roller (due out in the June Roller 1.2 release), which simplifies Roller installation and makes it easier for developers to add new configuration properties to the system.
« Roller 1.1.1 bug fix... | Main | Roller 1.1.2 availab... »