Project Roller
Blogs, news and views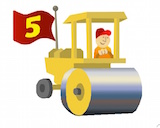 Blog Better! Roller is the open source Java blog server that drives blogs.oracle.com, the Apache Software Foundation blogs and many others. Read more on the about page.
Site hosted by
Quick Links
Navigation
« Roller 0.9.9 deploye... | Main | Standalone Roller... »
06.06.2004 by Dave Johnson | 0 Comments
Sun has chosen Roller to power Sun employee blogs at
blogs.sun.com

, Tim Bray writes about it on
his blog

.
« Roller 0.9.9 deploye... | Main | Standalone Roller... »