Project Roller
Blogs, news and views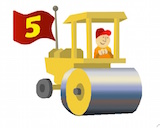 Blog Better! Roller is the open source Java blog server that drives Apache Software Foundation blogs and others. Read more on the about page.
Site hosted by

Quick Links
Navigation
« February 2008 Board... | Main | August 2008 Board... »
05.16.2008 by Dave Johnson | 0 Comments
The Apache Roller project's latest board report is available here:
May 2008 Board Report

. The highlights include the completion of new
Externalized User Management

and
Tag Data API

work for Roller 4.1.
« February 2008 Board... | Main | August 2008 Board... »