Project Roller
Blogs, news and views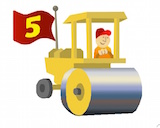 Blog Better! Roller is the open source Java blog server that drives blogs.oracle.com, the Apache Software Foundation blogs and many others. Read more on the about page.
Site hosted by
Quick Links
Navigation
« Welcome Henri Yandel... | Main | Documentation update... »
10.25.2004 by Dave Johnson | 0 Comments
We're getting ready to release Roller 1.0 RC1 for your evaluation and testing. There may be a couple of release candidate releases before we finally ship out Roller 1.0. Read more about it on Dave's blog

.
« Welcome Henri Yandel... | Main | Documentation update... »