Project Roller
Blogs, news and views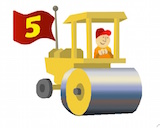 Blog Better! Roller is the open source Java blog server that drives Apache Software Foundation blogs and others. Read more on the about page.
Site hosted by

Quick Links
Navigation
« Apache Roller 6... | Main
08.16.2021 by Dave Johnson | 0 Comments
The Roller PMC has approved the release of Apache Roller 6.0.2, a minor bug fix release.
You can download the release via Apache mirrors link here:
Roller 6.0.2 includes the fixes listed below:
Parse referrer URL instead of using string value directly

Improved: the UI for the blog entries page

Improved: tooltip content on the registration form

Updated: the main menu to have proper space when displaying permission message

Updated: the header to show the tagline only when it's available

UI fixes are thanks to new contributor Yash Maheshwari.
On behalf of the Roller PMC,
Enjoy and best regards!
« Apache Roller 6... | Main