Project Roller
Blogs, news and views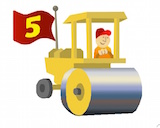 Blog Better! Roller is the open source Java blog server that drives blogs.oracle.com, the Apache Software Foundation blogs and many others. Read more on the about page.
Site hosted by
Quick Links
Navigation
Planet Roller: recent posts from the community
This page uses Roller's built-in "planet" aggregator to bring you the latest posts from the folks who contribute to Roller. You can also subscribe to this page as an
RSS 2.0 feed.
Life Update: The Bus Project, New Gigs, New House and More Matt Raible
I've written a few Life Update blog posts in the past and it seems appropriate to write another one today. A lot has happened since I wrote about our trip to Syncro Solstice 2015 in Moab . First of all, let's talk about the most exciting...

The Last Day of School Matt Raible
Today marks the last day of the school year for Abbie and Jack. I wrote about their first day of school back in August. It's Jack's last day in 4th grade and Abbie's last day in 6th grade. I snapped a picture to capture the memory as they were rushing off...

Syncro Solstice 2015 Matt Raible
Our Syncro has been running in tip-top shape ever since we got a new Subaru H6 engine last August . Since then, we've driven it 9000 miles, most of them on trips during the ski season . To begin the camping season this year, we traveled to Moab, Utah...

Farewell to the 2014-2015 Ski Season Matt Raible
My family and I had a terrific ski season this year. Last year was an epic year with 11 resorts and a heli-skiing trip to British Columbia. This year, we skied Winter Park/Mary Jane, Steamboat, Copper, Crested Butte and Telluride. I logged 42...

The Bus Arrives at Sewfine Matt Raible
11 years ago yesterday, I bought a '66 21-Window VW Bus using "buy it now" on eBay. 11 years later, it was delivered to Sewfine Interior Products to get the interior installed. When I originally spoke with them last year, they estimated it'd only...