Project Roller
Blogs, news and views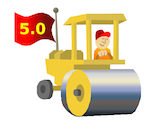 Blog Better! Roller is the open source Java blog server that drives blogs.oracle.com, the Apache Software Foundation blogs and many others. Read more on the about page.
Site hosted by
Quick Links
Navigation
Planet Roller: recent posts from the community
This page uses Roller's built-in "planet" aggregator to bring you the latest posts from the folks who contribute to Roller. You can also subscribe to this page as an
RSS 2.0 feed.
Developing Services with Apache Camel - Part I: The Inspiration Matt Raible
In early May, my client asked me to work on a project migrating from IBM Message Broker 6.1 to an open source solution. Their reason was simple, the IBM solution was end of life and outdated. To prove how out of date it was, the Windows version...

Rafting the Green River through Desolation Canyon Matt Raible
After rafting the Yampa in June, we knew we'd experienced a once-in-a-lifetime kinda trip. We never expected to have two in one summer. When we got an invite to raft Desolation Canyon over Labor Day weekend, we jumped at the opportunity. ...

Getting Started with JHipster on OS X Matt Raible
Last week I was tasked with developing a quick prototype that used AngularJS for its client and Spring MVC for its server. A colleague developed the same application using Backbone.js and Spring MVC. At first, I considered using my boot-ionic ...

The First Day of School Matt Raible
Another school year is upon us! This year brings a big change: Abbie is now a middle schooler! I missed blogging about the beginning of school last year because Trish and I were honeymooning in Ireland , Italy , Thailand and Fiji . For fall...

The Scenic Way to Santa Fe Matt Raible
After having a successful run at ski season with our VW Syncro, Trish and I figured we'd see how it performed in the summer. We took it 4x4ing in Moab , rafting in Dinosaur National Monument and camping for Father's Day Weekend . It was a trusty...