Project Roller
Blogs, news and views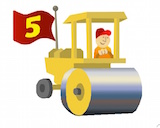 Blog Better! Roller is the open source Java blog server that drives blogs.oracle.com, the Apache Software Foundation blogs and many others. Read more on the about page.
Site hosted by
Quick Links
Navigation
Planet Roller: recent posts from the community
This page uses Roller's built-in "planet" aggregator to bring you the latest posts from the folks who contribute to Roller. You can also subscribe to this page as an
RSS 2.0 feed.
WIP: Links Dave Johnson
This is the first in my series of Web Integration Patterns. Check out the intro at this URL http://rollerweblogger.org/roller/entry/web_integration_patterns Synopsis Use links as a way to integrate web sites & applications via navigation and...

Web Integration Patterns Dave Johnson
In my previous post , I promised to write a blog series on Web Integration Patterns. This post explains the concept and a bit about how I plan to write about it. What I'm calling Web Integration Patterns are techniques for integrating software systems, web...